Reducing our Footprint

Our commitment to environmental responsibility encompasses sustainability practices in management of greenhouse gas emissions. Our Green Team focuses on increasing employee awareness and personal accountability.
We are proud of our accomplishments and are committed to finding new ways to reduce our environmental impact.
For two years in a row, we've received the Climate Smart Seal for our achievements in reducing greenhouse gas (GHG) emissions. The Climate Smart certification program assesses organizations' baseline GHG inventory and assists with developing GHG management strategies. In 2013, we reduced our gross GHG emissions by 10% (close to 155 tonnes of carbon dioxide equivalent).
We received the 2014 Environmental Award from the City of Burnaby in the category of Business Stewardship for implementing sustainability measures to reduce our environmental and carbon footprints.
How we lowered our carbon footprint in 2013: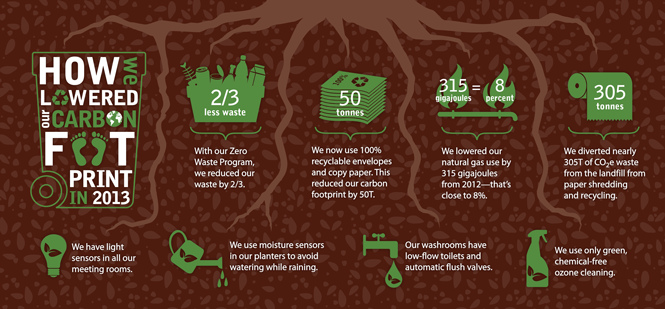 We reduced our waste by 2/3 with our Zero Waste Program
We lowered our natural gas use by 315 gigajoules from 2012 (close to 8%)
We moved to online claims for many benefits, which decreased the amount of mail that was trucked into our building
We switched to 100% recyclable envelopes and copy paper, reducing our carbon footprint by 50 tonnes
We diverted nearly 305 tonnes of carbon dioxide equivalent waste from the landfill by paper shredding and recycling
We installed moisture sensors in the garden to reduce watering
We implemented composting of food waste and paper towels
We used only green, chemical-free ozone cleaning
We installed low-flow flush valves in washrooms
We continue to search for ways to reduce our hydro and gas consumption by working with our supply chain to reduce delivery and pickup frequency and volume. Our building meets Building Owners and Managers Association Building Environment Standards (BOMA BESt) and environmental best practices.