United Way kicks off annual Period Promise campaign
Thursday, May 6, 2021
Let's work together to eradicate period poverty.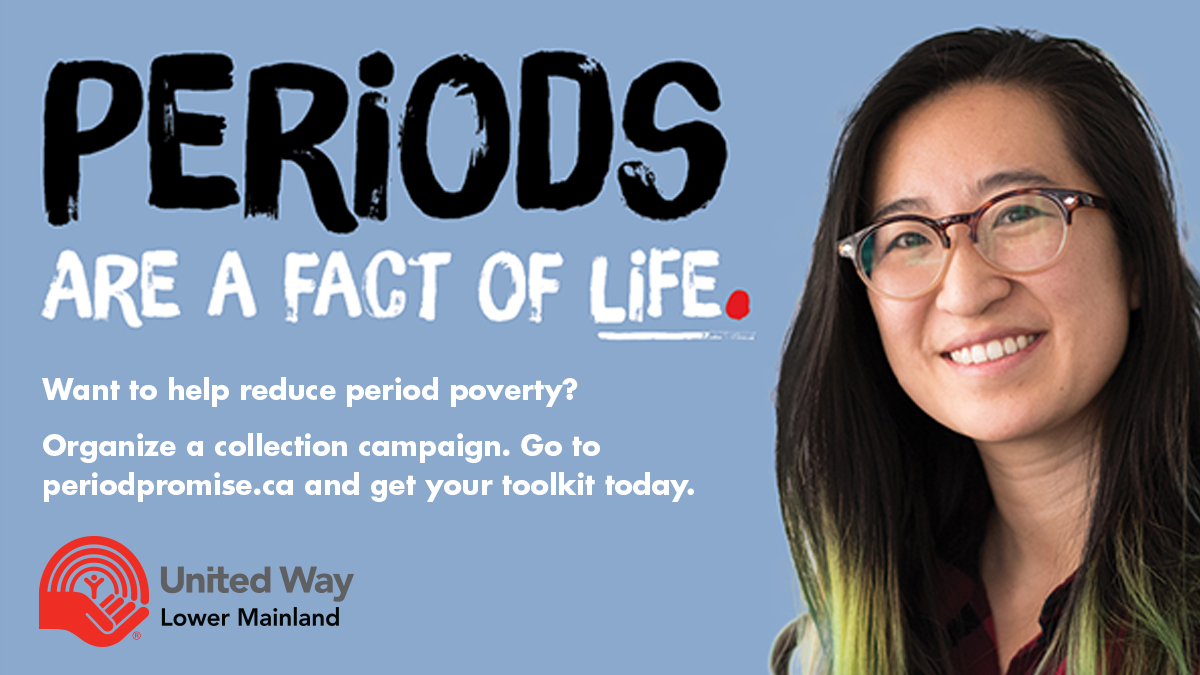 If you're living in poverty – or vulnerable in other ways – access to necessary menstrual products can be challenging. And the COVID-19 pandemic has made it more difficult.
Fortunately, the United Way Lower Mainland's Period Promise campaign, presented by Pacific Blue Cross, is back. Although this year's campaign will look a little different than usual, our end goal is the same – eliminate period poverty and ensure everyone has access to the product they need when they need it.
Why is Period Promise important?
Period poverty—defined as a lack of access to menstrual products and facilities to use them safely—is an issue that many people, at some point in time, have had to deal with. A recently released United Way report showed just how widespread period poverty is in British Columbia. To make matters worse, the report also showed the problem is exacerbated by a stigma that still exists around periods, which can make asking for help difficult.
26% of people who menstruate in BC have gone through a period without menstrual products available to them
With the help of thousands of donors, United Way has been able to distribute more than 1.2 million menstrual products to community organizations in the Lower Mainland, Fraser Valley, and Sea to Sky Corridor. That's why we're proud to once again be the presenting sponsor of Period Promise —to help United Way reach an even higher goal this year to help improve the health and wellbeing of British Columbians.
How can you help?
This year's Period Promise campaign runs from May 6th to June 3rd to coincide with Menstrual Hygiene Day on May 28th. During this time, you can donate money towards United Way's fundraising campaign, start your own Period Promise campaign, or make a period promise on behalf of your organization.
Donate money. A donation of just $20 provides menstrual products for one person in need for three months. Donate now.
Start your own Period Promise campaign. The United Way has created a downloadable campaign kit for anyone who wants to take action, complete with posters and ideas for getting your community or organization involved. Learn more.
Make a Period Promise. Show you care by providing products in your washrooms. It's a simple, cost-efficient action that sends a strong message that you're a progressive, thoughtful organization. Make your Period Promise today.
Together, we can tackle period poverty and make our community more accessible for everyone.