Sadly, period poverty in BC is widespread
Wednesday, Mar 24, 2021
United Way's new study shows just how difficult—and devastating—it is on people when they can't afford menstrual products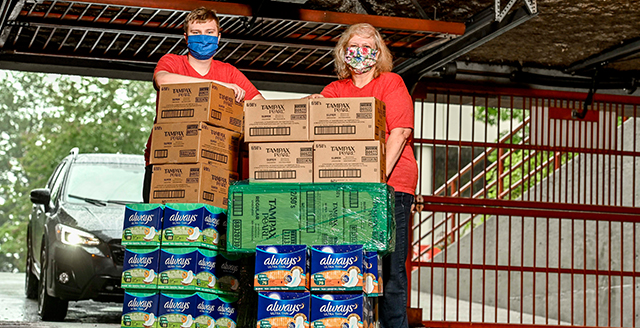 Period poverty—defined as a lack of access to menstrual products and facilities to use them safely—is an issue that many people, at some point in time, have had to deal with. The newly released Period Promise Research Project, a BC-wide study conducted by the United Way Lower Mainland, shows just how far reaching period poverty is and the negative consequences that come along with it.
Remarkably, over half of respondents (51%) in the study indicated that they've struggled to purchase product for themselves—and those most affected include some of BC's most vulnerable communities, including Indigenous people (First Nations, Inuit, and Metis) and people living with a mental or physical disability. But it also affects students and working people who have to decide between menstrual products and paying a hydro bill, or buying much needed shoes for a child.
The study highlighted instances where limited access to menstrual products caused people to stay home from school or work, or miss a community or social event—for no reason other than an uncontrollable function of their body.  This was the case for over a third of the respondents, and translates to missed opportunities to learn, earn an income, contribute to or benefit from their community, or enjoy a healthy social life.
Another finding: period poverty is exacerbated by a stigma that still exists around periods. In this day and age, nearly 75% of respondents either agreed or strongly agreed that menstrual stigma makes asking for help difficult.
"The stories and data highlighted in the report are heartbreaking to read," says Rob Chiarello, Senior Vice President, People & Culture, Pacific Blue Cross. "We knew that period poverty has a significant impact on British Columbians—which was a key reason we sponsored the program from the outset. The study confirmed our fears about how widespread it is and how devastating its consequences can be."
Community access to menstrual products is hugely beneficial
Thankfully, the study also offered some guidance to improve the situation around the province. Nearly 75% of respondents agree that having access to menstrual products within their community has a positive impact on their quality of life.
Based on the findings, United Way is recommending several steps to combat period poverty, including increased access to free menstrual products in community organizations and programs to destigmatize periods and menstruation.
The Period Promise Research Project is the most substantive investigation into the issue of period poverty in the history of British Columbia, and likely Canada. Michael McKnight, President and CEO, United Way Lower Mainland notes that period poverty has a big impact on people's connection to community. "We hope this report strengthens people's understanding of the issue and raises awareness of the role that accessible community-based non-profits are playing as part of the solution."
You can read the full report here for more information. Pacific Blue Cross is proud to have supported this effort.
As part of our mission to improve the health and wellbeing of British Columbians, we are proud to be the presenting sponsor of
Period Promise
, a United Way Campaign to take action and provide menstrual products to those who need them most.
How can you help today?
Donating to the United Way Period Promise is the best way you can help end period poverty in British Columbia today.
Your donation will ensure British Columbians don't have to miss school, work, or social events because they're menstruating. No donation is too big or small.