New study shows that mental health of nearly half of British Columbians continues to suffer during COVID-19
Friday, Jan 29, 2021
British Columbians are feeling more worry, stress, anxiety, boredom, and loneliness compared to pre-pandemic levels
A new study on mental health commissioned by Pacific Blue Cross and conducted by Insights West has found that the state of mental health of many adult BC residents is precarious, with nearly half reporting their mental health to be worse than it was pre-pandemic. This is especially true amongst young adults at 56% and those that identify as female at 54% reporting a decline in mental health, compared to males at 34%.
The study shows a significant number of BC residents are experiencing more worry (62%), stress (60%), anxiety (59%), and boredom (59%), compared to pre-pandemic levels. And it tracks with a study done last fall, showing that our mental health has not improved in the last four months.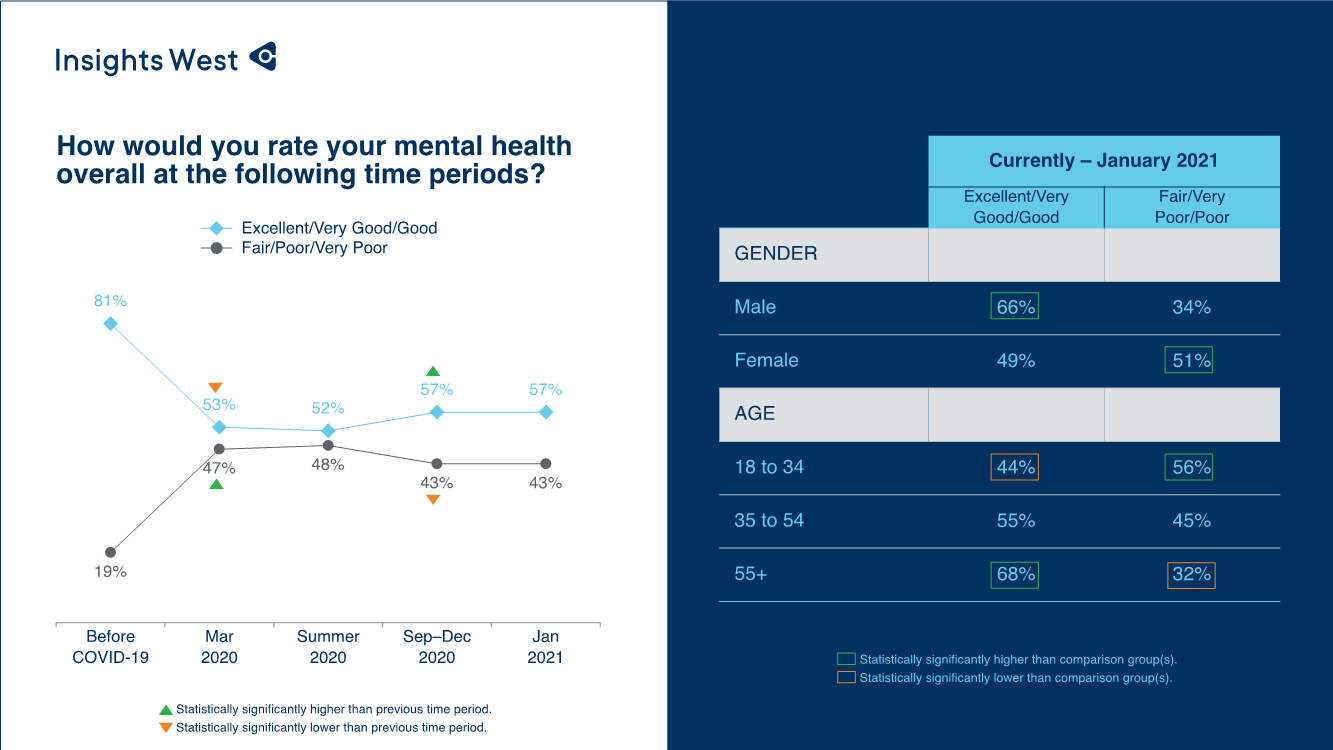 "The pandemic has had a dramatic impact on the mental health and well-being of British Columbians that is proving to be wider reaching than the economic toll that we've experienced" says Steve Mossop, president of Insights West.
The same study shows that COVID-19 has forced changes in lifestyle behaviors – both good and bad. There are those that continue to seek and engage in healthy behaviours, but there are many who are struggling to engage in activities that reinforce good mental health. Compared to pre-pandemic levels, 34% of respondents are exercising less, 39% are less connected, 33% have experienced a decline in sleep quality, and alcohol and cannabis use is up 30%.
Fortunately, it appears more British Columbians are using mental health support services during the pandemic, with one-in-three reporting someone in their household has used mental health services during the pandemic. The highest utilization is with psychologists, psychiatrists and counsellors—and  virtual care has surpassed in-person visits.
"At Pacific Blue Cross, we listen to British Columbians as we work to provide our clients and members with mental health support to fit their needs," says John Crawford, President and CEO, Pacific Blue Cross. "We know there is no single solution to mental health, which is why we provide a range of options like proactive health and wellness programs, virtual doctors, online mental health support as well as counselling and psychology benefits to improve the health and wellbeing of British Columbians."
There is also some room for optimism on the horizon, with vaccination news, improved weather, and reduced COVID-19 cases in British Columbia. While only 25% of British Columbians think their mental health will improve in the next several weeks, that number increases to 42% when the timeframe is expanded to the next several months.
Visit our Mental Health Resources page for information on mental health services that can help if you need it.