Member ID Card Frequently Asked Questions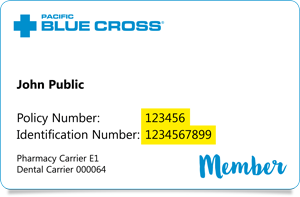 NEW ID CARD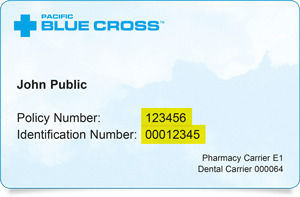 OLD ID CARD
Do I need a card for my spouse?

Pacific Blue Cross only issues ID cards in the name of the cardholder. You will receive two copies of your ID card in the mail. This extra ID card can be shared with your spouse or dependents. You can also print off additional copies of your ID card from your Member Profile.

Where is the dependent info on my ID card?

Spouses, partners, and/or other dependent information will no longer show on the ID cards to ensure privacy and protection of data. Instead of dependent numbers, indicate the full name and birth date when making a claim. You can always find a list of actively covered dependents on your Member Profile.

How do I print my ID card?

To print off an ID card from your Member Profile, click the "Account" tab and then select "Print Your ID Card." You will have the option to print your ID card or you can also email a copy of your ID card to your smartphone.

Why can't I print my ID card?

If you are having trouble printing your ID card, you may have an outdated version of Adobe Acrobat Reader. Please refer to Adobe Acrobat Reader Help for information on how to download the latest version. Adobe Acrobat Reader is software that allows you to view, print and comment on Portable Document Format (PDF) files.

Why is the Dental Carrier listed on my ID card if I don't have Dental coverage?

The Dental Carrier and Pharmacy Carrier are printed by default on all ID cards. Please check your Member Profile to confirm the coverage available on your specific plan.

The numbers have worn off my ID card, what can I do?

If your ID card is no longer legible, you can always print a new ID card from your Member Profile. Some clients choose to laminate their ID cards to protect the numbers. You can also download the free Pacific Blue Cross mobile app from the App Store or Google Play and access your ID card from the app.
---
Have more questions?  We can help:
Monday to Friday 8:00am to 4:30pm
(Pacific, excluding statutory holidays)
Or send us a message and we'll respond by email.