Period Promise continues to alleviate period poverty with remarkable campaign
Thursday, Jun 29, 2023
United Way BC's 2023 Period Promise campaign presented by Pacific Blue Cross collected over half a million menstrual products in just over four weeks.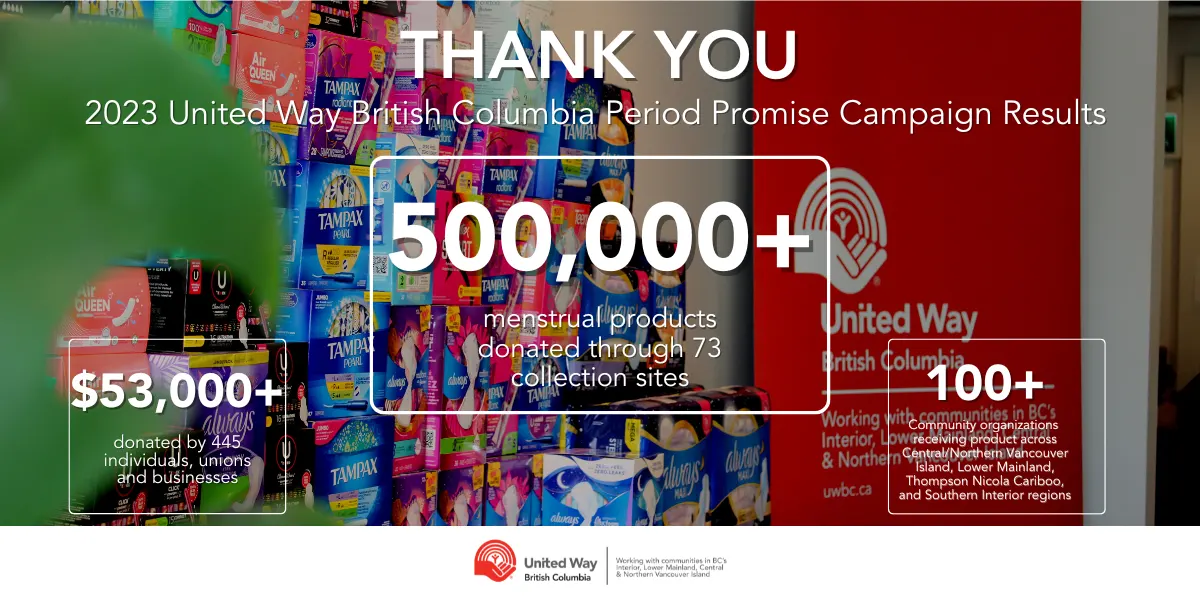 United Way British Columbia's 2023 Period Promise campaign, presented by Pacific Blue Cross in partnership with CUPE 1816, collected more than 500,000 menstrual products and raised over $53,000 in support of the initiative. Thanks to the Period Promise campaign, more than 100 community organizations will receive free period products to distribute to the public at no cost.
"We are amazed by the collective efforts of organizations, community partners and individuals across our province in raising awareness and period product donations for this year's United Way Period Promise campaign," says Rob Chiarello, SVP, People and Culture at Pacific Blue Cross. "With over half a million period products collected, more British Columbians will have access to essential period products. Once again, this year's campaign has shown us that together, we can make a meaningful difference in elevating menstrual equity, alleviating period poverty and contributing to healthier, more inclusive communities.
Since 2019, Pacific Blue Cross has been working in partnership with CUPE Local 1816 to improve the health and wellbeing for British Columbians through their ongoing support of the Period Promise collection campaign. As early adapters of the Period Promise Policy Agreement, our support runs beyond just serving as the Presenting Sponsor. Each year, we run joint collection campaigns and our staff actively participates in events, initiatives and promotions of the campaign. This year, the team at Pacific Blue Cross and CUPE 1816 members together raised over $8,500, plus in-kind product.
The 2023 Period Promise Campaign aimed to tackle the pervasive issue of period poverty, as the rising cost of living and inflation makes affording and accessing menstrual products more challenging. The campaign not only provided immediate relief but also fostered ongoing conversations about menstrual equity, driving meaningful policy changes and community support systems.
Although this year's campaign has come to an end, United Way BC will continue to accept menstrual products donations, as well as monetary donations at all its regional offices. Those wanting to contribute to Period Promise can also donate online.