Pacific Blue Cross commemorates Red Dress Day
Wednesday, May 4, 2022
With help from the Burnaby Fire Department, red dresses were hung at Pacific Blue Cross to honour missing and murdered Indigenous women and girls in BC and across Canada.
Red Dress Day is a day for raising awareness and education about the disproportionately high rates of missing and murdered Indigenous women and girls, two spirited, and men in Canada. To show our support—and with the help of firefighters from Station 7 of the Burnaby Fire Department—Pacific Blue Cross hung red dresses on the trees in front of our office that can be seen at the corner of Canada Way and Gilmore.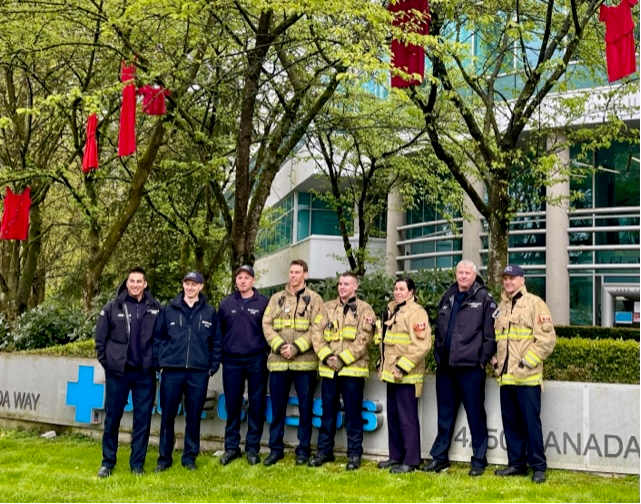 "As an organization with strong ties to First Nations communities across British Columbia, this important display pays respect to this significant day and to honour those we have lost," says Leza Muir, Sr. Vice President, Chief Operating Officer, Pacific Blue Cross. "Actions that acknowledge Indigenous rights violations and their ongoing impacts are important steps towards Truth and Reconciliation."
The red dresses will hang outside for two weeks, until May 16.
More about Red Dress Day
Red Dress Day started as The REDress Project – an instillation art project by Métis artist Jamie Black that focuses on the issue of missing or murdered Indigenous women across Canada.
Black was inspired by a demonstration she saw in Bogotá, Colombia, when she came across a group of local women who had gathered in a public square. The women had all experienced having people in their families go missing, without any kind of recourse.
"One woman in a red dress climbed to the top of the statue in the middle of the square, and she called out, 'Where are they?' I thought, we need to bring this energy home."

National Day of Awareness for Missing and Murdered Indigenous Women and Girls (MMIWG)
Red Dress Day coincides with the National Day of Awareness for Missing and Murdered Indigenous Women and Girls (MMIWG) on May 5 – a day that recognizes the human right crisis of the high and disproportionate rates of violence and number of missing and murdered Indigenous women and girls in Canada.
Sadly, Indigenous women are three times more likely than non-Indigenous women to be victims of violence, and the average rate of homicides involving Indigenous female victims is four times higher than that of homicides involving non-Indigenous female victims.
Current public data on MMIWG oversimplifies and underrepresents the scale of the issue, yet still demonstrates a complex and pervasive pattern of violence against Indigenous women and girls who are often targeted because of their gender and Indigenous identity.
How can you support Red Dress Day and MMIWG?
Stay educated and up to date on Indigenous Canadian history from the Indigenous perspective.
Read the final report from the National Inquiry

.

Join the conversation online #MMIWG #EndTheViolence.
Support others and respectfully engage your community.