New Pacific Blue Cross Health Challenge: Rewarding healthy goals while we flatten the curve
Thursday, Apr 16, 2020
New Pacific Blue Cross Health Challenge is open now. Share your healthy goal for a chance to WIN $2,020 in health cash to spend on healthy meal delivery services, your Peloton subscription, virtual meditation programs or anything else that helps you stay healthy.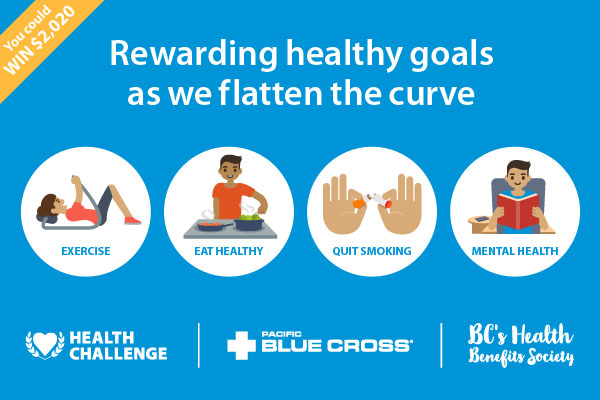 Physical distancing and staying home to help "flatten the curve" is having an impact on how we live our day-to-day lives. Our worlds have gotten a bit smaller—and it's a little harder to do the things we normally do to stay healthy.
To support our fellow British Columbians in making healthy goals to eat right, exercise, quit smoking or work on their mental health, we've launched a special edition of our Pacific Blue Cross Health Challenge.
This new challenge is designed to keep you motivated to feel your best by taking small, healthy steps like putting down the remote in favour of a book, balancing treats with veggies, getting more fresh air, or doing yoga at home.
To participate, simply choose a healthy goal you would like to work on. You'll automatically be entered into a random draw for $2,020 in Health Cash, which can be used to purchase anything that helps keep you healthy.

Bonus: Share your goal with family and friends through your favourite social media accounts to gain encouragement and votes of support. Each vote will count as an extra entry in the Health Challenge draw. Contest ends June 30th.