Blue Cross and Children's Wish Foundation: Partnering in Wishes for Over 30 Years
Thursday, Feb 28, 2019
Enter for a chance to win your travel wish and help celebrate Children's Wish Month...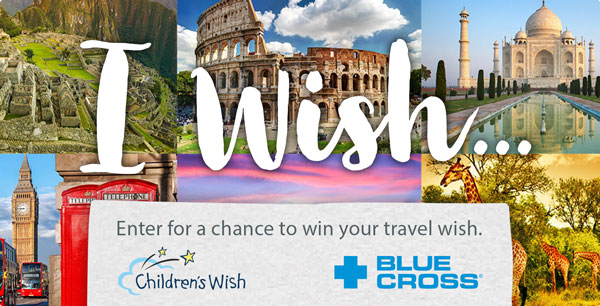 Wishes work wonders. Having a heartfelt wish to look forward to gives children, and their families, the strength to endure treatments, helps to raise spirits, and lets children be children again. The Children's Wish Foundation of Canada is the largest all-Canadian wish granting charity dedicated to granting wishes to Canadian children between the ages of 3 and 17 who are diagnosed with life-threatening conditions, including serious neurological and genetic illnesses. For more than 30 years, Children's Wish Foundation chapters across Canada have worked tirelessly to grant the heartfelt wishes of more than 25,000 children and their families.
Blue Cross has been a proud partner with Children's Wish Foundation for over three decades and, in that time, we've helped to make thousands of dream trips a reality by providing travel insurance for wish children. Providing insurance frees families from the worry of costly health setbacks, so wish children can experience the joy of travel – children like seven-year-old Jack, who will soon get to experience his dream trip to Disney World.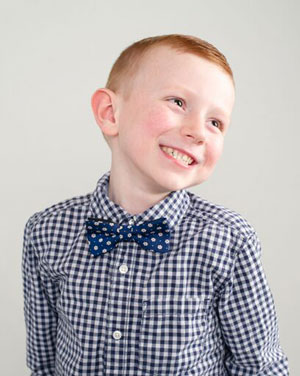 Jack, age 7
Through our partnership with Children's Wish, Pacific Blue Cross is proud to help make Jack's heartfelt wish come true. Jack was diagnosed with Alpha 1 Anti-Trypsin deficiency disorder at 9 months, a genetic disorder that can cause lung and liver disease. Over the years, Jack has been to countless doctors' appointments and received too many blood tests to count. In 2018, he underwent a successful liver transplant. Not without its many challenges, Jack's transplant has given him a second chance, and now he can focus on great things to come – including his trip to meet Mickey Mouse! We are grateful for the opportunity to help make this dream come true for Jack. And, you can help bring more magical wishes to life by supporting Children's Wish throughout the month of March.
March is Wish Month in Canada – Help us Celebrate by Sharing your own Travel Dream
From March 1 to 31, the Children's Wish Foundation of Canada and Blue Cross invite you to join our iWish campaign. Have you always dreamed of hearing Big Ben chime in London, or seeing kangaroos hop through the Outback? Support Children's Wish and share your dream vacation for a chance to win a $5,000 travel voucher from Blue Cross.  
Share your travel dream now at bluecrossiwish.ca for a chance to win $5,000 for your dream vacation and help grant a child's most heartfelt wish.