Not a runner? No Problem. Walk with Pacific Blue Cross at the 2021 Vancouver Sun Run
Friday, Mar 19, 2021
Now in its 37th year, the annual Vancouver Sun Run will return in a very unique way.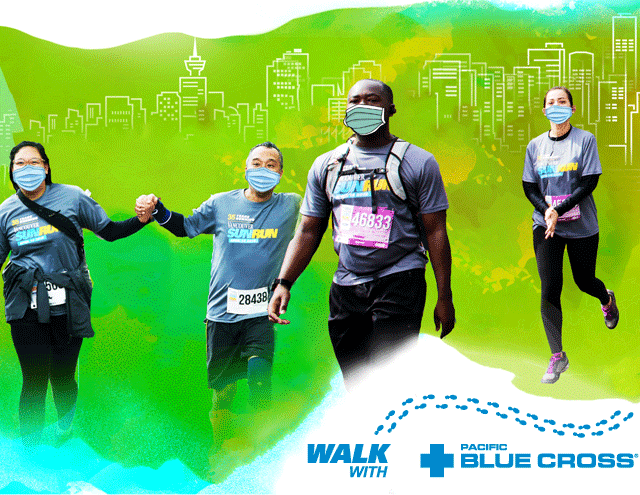 The Vancouver Sun Run is going virtual in 2021, and Pacific Blue Cross is proud to be sponsor of the walking category. Walking is a great way to improve physical and mental health and wellbeing - yet our research with Insights West shows that 23% of British Columbians are walking less since the start of the COVID-19 pandemic. "Walk with Pacific Blue Cross is a safe, accessible, and inclusive way for all British Columbians to make a healthy goal." John Crawford, President and CEO & Walk with Pacific Blue Cross Team Captain.
Pacific Blue Cross Members save $10 when they get their race kit safely delivered to their door
Go to the Individual Registration section
Sign in, Create an account or Continue as a guest
Register
Enter address details and race details
On the Package Pickup Selection screen choose "Mail me my package"
Enter Promo Code WALKWITHPBC on the Cart Summary page
Complete your registration
About the Vancouver Sun Run
The Vancouver Sun Run is Canada's largest 10K road race and the 3rd largest timed 10K in North America.  The Vancouver Sun Run is open to international elite competitors, recreational runners, joggers and walkers, wheelchair competitors, teams, schools and children.
The 2021 Vancouver Sun Run and 2.5K Shaw Mini Sun Run will be taking place virtually from Sunday, April 18th to Friday, April 30th.  For more information, visit vancouversunrun.com Also follow the Vancouver Sun Run on Twitter at @VancouverSunRun, like us on Facebook at www.facebook.com/VancouverSunRun and follow us on Instagram at instagram.com/vancouversunrun with #VirtualSunRun