Health Foundation supports upcoming LIVERight Forum
Wednesday, May 12, 2021
Our $15,000 donation helps the Canadian Live Foundation deliver free information to people across BC about liver health.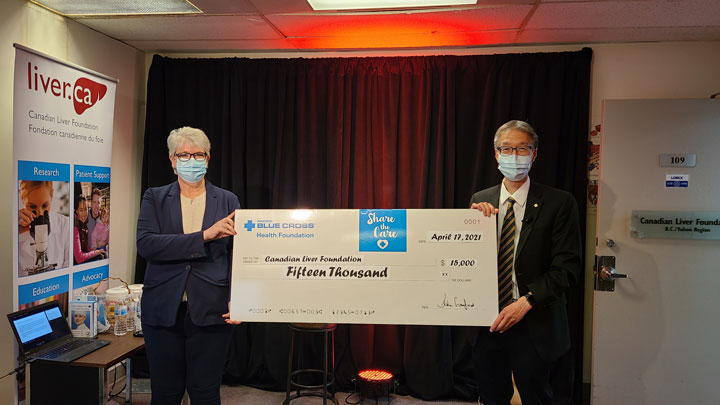 Since 2015, the Canadian Liver Foundation's annual LIVERight Health Forum has provided an opportunity to improve liver health in communities across British Columbia through an interactive delivery of liver health education from leading healthcare experts. A significant donation from the Pacific Blue Cross Health Foundation will help ensure the event goes ahead for another year, despite challenges brought on by the COVID-19 pandemic.
"The COVID-19 pandemic has been difficult for many not-for-profit organizations and events over the past year," says Monica Chui, Director, Development and Community Engagement, Canadian Liver Foundation.
This year's LIVERight Health Forum will be held in a virtual setting and will once again offer in-depth presentations and Q&A sessions with leading liver specialists, surgeons, family doctors, pharmacists, and dieticians— all of which will be completely free to the public.
"We remain hopeful that, through support from organizations like Pacific Blue Cross, we will continue to provide vital support and resources to British Columbians who are fighting their health journey," adds Chui.
And that's important because there continues to be an ever-increasing demand for information and public education about liver health and liver disease. The many myths and misinformation about liver disease leads to a lack of understanding of the importance of the liver to everyday health, and a lack of understanding of the significance and impact of liver disease.
The LIVERight Health Forum exposes the public to recent breakthroughs in the management of common liver diseases. What the public may not know is that the signs and symptoms of liver disease are often very subtle until the advanced stages, which is why early detection is key. The event helps empower patients and primary care providers to manage common liver-related problems like non-alcoholic fatty liver disease and hepatitis C.
"We are proud to support the LIVERight Forum because it aligns perfectly with our mission to improve health and wellbeing for British Columbians," says Jim Iker, Health Foundation Chair. "The donation helps to ensure that the Forum will continue to raise awareness and provide free public liver health education to British Columbians during this unprecedented year."
The LIVERight Health Forum starts on May 17th. Visit liver.ca/liveright-health-forum for more information and the complete event schedule.