Donation helps keep surgical care local for Kootenay residents
Monday, Mar 29, 2021
Pacific Blue Cross Health Foundation donated $10,000 to support the Urology team at Kootenay Boundary Regional Hospital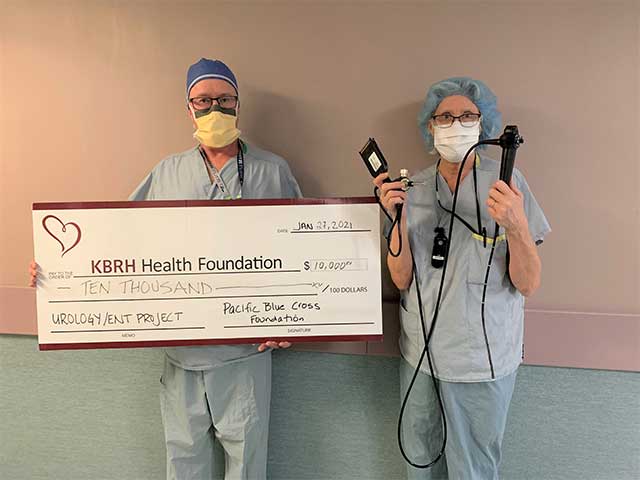 John, Registered Nurse and Cindy, MDR Technician presenting the Pacific Blue Cross Health Foundation donation to the KBRH Health Foundation on behalf of Pacific Blue Cross.
For the 80,0000 Kootenay Boundary residents who rely on the Kootenay Boundary Regional Hospital (KBRH) for health care services, having a local option for acute care is often a life-saving benefit.
KBRH responds to the health care needs of the Kootenay Boundary region and beyond, an area of roughly 29,000 square km. For people living in this region, receiving care in a timely manner and remaining close to home for procedures is critical.
"When patients receive their consultations and procedures locally, it is both clinically and financially better for patients and their families," says Lisa Pasin, Director of Development, KBRH Health Foundation. "Not only do we see improved health outcomes as a result of quicker patient diagnostics and treatment, but also because the patient's support network is available to them, not to mention the importance of reducing travel during the COVID-19 pandemic."
Donations to enhance health care
The KBRH Health Foundation is an important partner  that provides support and funding to ensure the highest level of patient care occurs at KBRH. Since 1988, the Foundation has e raised over $20 million to advance health care in the Kootenay Boundary, with much of their revenue coming from donations. The funding is directed towards securing medical equipment, patient care and comfort initiatives, and staff education.
The Pacific Blue Cross Health Foundation donated $10,000 to the KBRH Health Foundation to support the purchase of a cystoscope, which will advance care in the KBRH operating rooms for Urologists who routinely perform diagnostics and treatment for chronic urinary tract conditions, chronic pain, kidney stones, blood in urine, and more. Urological procedures accounted for 18% of total surgeries at KBRH in 2020—and they expect urology cases will represent approximately 23% of surgeries in 2021.
Click here for more information or to donate to the KBRH Health Foundation.  
This is the second donation the KBRH Health Foundation has received from the Pacific Blue Cross Health Foundation. In 2018, the KBRH Health Foundation received $5,000 to procure a Sonosite Handheld Ultrasound Machine, used to assist nurses with needle insertion during dialysis treatment for renal patients.